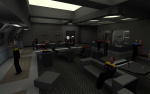 A promotional image intended to for the release of Extended TWO of the map
"U.S.S Leonov - 'the Animal'"
Extended TWO
would've taken advantage of the special rpgxEF branch that was being developed when this version was being developed. Especially the number of entities would've been increased
(including blue and yellow alert)
for this version.
rpgxEF is no longer in
development
and its
homepage
doesn't exist anymore.
Ultimately, Extended TWO formed the basis for the Jedi Academy version
Outline THREE
, which saw further development and the restoration of certain design elements that had to be cut from Release ONE, notably on Deck 2.